April, 2018
Catherine Redford
We were treated to an entertaining evening of laughter and "eye Candy". Catherine's trunk show included many "modern quilts" and many that showcased her exquisite needlework skills.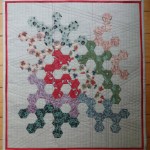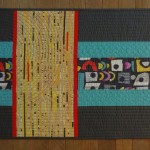 Catherine Redford is a member of the Riverwalk Quilters Guild in Naperville IL, and also a member of Fiber Art Di-vas, an art group that meets at Naper-ville Art League, and the Professional Art Quilt Alliance. In 2012, she co-founded the Naperville Modern Quilt-ers Guild to further explore the mod-ern quilt aesthetic. In 2013, she was invited to appear on Quilting Arts TV (QATV) and has since taped several segments on various topics. She is a regular contributor to Modern Patchwork magazine and the author of two Modern Machine Quilting QATV workshops on DVD.
Catherine believes we all have an innate need to be creative in some sphere of our lives. Quilting is her outlet of choice. She shares her love of quilting as an inspiration to others. She has found that as she passes on the knowledge she has gained to others, it enriches her own journey of creativity.
Quilting is full of choices, and Redford thinks all quilters have the right to choose the elements of their craft that bring joy to them. There are always choices in our lives that we just "have to do" in pursuit of our long-term goals. It's the same when we quilt. She always encouraged her children to try new vegetables, but could accept that there were some they would never learn to love. She encourages her students to try all the processes involved in making quilts, but accept there will be some people that find their joy in making tops by ma-chine, while others enjoy handwork and still others love to machine quilt. That's OK! That's where teamwork comes in and there's a whole community of quilters out there willing to help.
Learn more about Catherine Redford at
http://catherineredford.com/