General membership guild meetings are always the third Monday of the month.
January, 21, 2019
Christina Cameli
Christina is a quilter who loves spreading excitement and confidence to other quilters! She free-motion quilt on her own home machine. She loves teaching free-motion quilting so much that she wrote some books about it! Then she started playing with wedge quilts, so she wrote about that too!

Christina is happiest working without patterns, using up scraps and not taking things too seriously. She's a single mom and quilting is just a part-time thing for her., In the "real" world she's a nurse-midwife and loves her job.

Christina's newest book.
WOW! Look what you can do with a wedge ruler!
February 18, 2019
Annual Challenge Quilt reveal
March 18, 2019
Elizabeth Hartman

Sidnee has been working with fiber and fabric since her girlhood, including a stint as a custom dressmaker in high school. Her early art-quilts were geometrical and abstract in design. They were heavily influenced by traditional quilts and her studies with Nancy Crow and other prominent art quilters. In 2007, she began developing a foundation appliqué technique and producing quilts based on photographic imagery.
Sidnee's work has been collected by individuals and exhibited in galleries, museums, and art shows locally, nationally, and internationally, including Quilt National 2013. Her work was featured on the television program Oregon Art Beat and has been published in exhibition catalogs as well as national and international magazines. She belongs to Studio Art Quilt Associates and Art Quilt Network.
February, 2018
Our annual challenge quilt reveal.
March, 2018 Karen Walker: "Modern Piecing, The Farmer's Wife Way"
Karen is an Oregon Farm girl, longarm quilter, pattern designer, Craftsy blog author and

recently filmed 2 quilting classes for an online e-learning site; Creativiu

. She specializes in small piecing 'One Stitch at a Time'. Her approach can be applied to almost any quilt and may prove to be a good reminder for

seasoned
quilters or a new basket of exciting tools to enhance your quilting experience. She'll bring a trunk show of her own personalized pattern designs and will share the story behind them.
April, 2018 Catherine Redford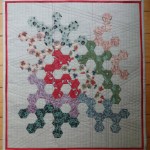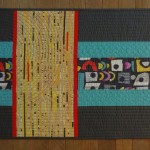 Catherine Redford is a member of the Riverwalk Quilters Guild in Naperville IL, and also a member of Fiber Art Di-vas, an art group that meets at Naper-ville Art League, and the Professional Art Quilt Alliance. In 2012, she co-founded the Naperville Modern Quilt-ers Guild to further explore the mod-ern quilt aesthetic. In 2013, she was invited to appear on Quilting Arts TV (QATV) and has since taped several segments on various topics. She is a regular contributor to Modern Patchwork magazine and the author of two Modern Machine Quilting QATV workshops on DVD.
Catherine believes we all have an innate need to be creative in some sphere of our lives. Quilting is her outlet of choice. She shares her love of quilting as an inspiration to others. She has found that as she passes on the knowledge she has gained to others, it enriches her own journey of creativity.
Quilting is full of choices, and Redford thinks all quilters have the right to choose the elements of their craft that bring joy to them. There are always choices in our lives that we just "have to do" in pursuit of our long-term goals. It's the same when we quilt. She always encouraged her children to try new vegetables, but could accept that there were some they would never learn to love. She encourages her students to try all the processes involved in making quilts, but accept there will be some people that find their joy in making tops by ma-chine, while others enjoy handwork and still others love to machine quilt. That's OK! That's where teamwork comes in and there's a whole community of quilters out there willing to help.
Learn more about Catherine Redford at
http://catherineredford.com/
May, 2018 Joyce Gieszler, Getting your UFO's Under Control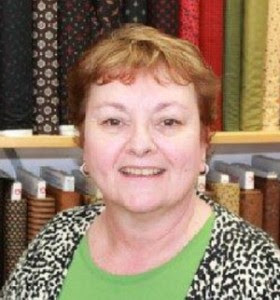 Joyce has authored two books and created dozens of patterns. The members of

WQG

anticipate Joyce's Mystery Quilt classes each fall. For our May guild meeting, Joyce will present a humorous program on how to take control of that UFO pile. What a great way to begin our annual UFO challenge!
June, 2018 Ann Shaw, Art Quilter
July, 2018 Jessica VanDenburgh- Hand bags, Wallets and Totes, Using Pre-cuts to make quilts
Our July speaker was Jessica VanDenburgh, owner of Sew Many Creations. Jessica's business
began as a custom bag business in 2007 after much encouragement from friends and family. In 2011,
the company developed into a bag pattern business geared towards quilters. After much frustration with the bag & accessory patterns that were available (mostly written for seamstresses), she decided to create a line of easy to make, beginner friendly patterns that quilters could understand. They use the same tools and language that quilters use. In 2013, quilt patterns were added as well. Her patterns are easy, beginner friendly and many of them use pre-cut fabrics such as jelly rolls, layer cakes and fat quarters.
In addition to speaking at our July guild meeting, Jessica taught a workshop. Participants made lovely tote bags.
.
WOW! The 2018 Brown Bag Extravaganza Was the Biggest Ever!
Every year out members clean out their sewing spaces and find treasures that need a new home. They donate their seldom-used quilting and craft items.... and then the fun begins!
Our fabulous Brown Bag Committee toils for months to prepare for the evening. Nancy and her team group, sort, and label the goodies and set up tables of silent auction items, "ticket and take it" items and the ever popular brown bag items. We purchase tickets and "spend" them by purchasing "ticket and take it" items and put them in brown bags next to items they hope to win when tickets are drawn from the bags.
It seems that this very popular event grows bigger every year. We have our wonderful guild volunteers to thank for that. A BIG THANK YOU to Nancy and all who assisted her! The hard work payed off. Members and guests had loads of fun and went home with loads of treasures.
October, 2018 Mickey Depre
www.mdquilts.com
Her quilts have been described as whirlwinds of color, with oranges residing next to purples of all shades in harmony. Dots, swirls, and stripes intermingle with florals and prints in an outlandish yet exciting visual parade.This is how she sees the world and how she wants the world to see her.
Her work mixes traditional quilting techniques with bold, innovative machine appliqué and thread work. Fabric choices
include her own hand dyed cotton with commercial cottons for a special spark of color and depth. Pieces are heavily machine quilted. The images are meant to spark thought and a smile, as humor is a great gift to share.
"There is more than enough fabric in the studio to be both an Art Quilter and a Traditional Quilter!
November, 2018
Annual UFO Contest Reveal
December, 2018 Annual Holiday Party
It's that time of year again! Decorations, gifts, music, good friends, and FOOD! Lots and lots of food! Our party committee members are hard at work planning a spectacular evening. Don't miss the fun- join us on December 17th.
The festivities begin at 6:30 pm
New Life Baptist Church in Hillsboro (or regular meeting location).
Bring a wrapped gift that is something a quilter would like. Make it or purchase it and limit the cost to about $10.00.
Bring a pot luck dish for about 6-8 people.
Last name ending in:
A-F Bring a main dish
G-L Bring a Dessert
M-R Bring a salad
S-Z Bring a side dish
*******************************************************************************
2017
January, 2017 "WQG Quilt Barn Trail Update"
Julie Mason & Jane Foust
February, 2017 "Postcard Quilts" Bonnie Sabel Welte
March, 2017 Annual Brown Bag Extravaganza
April, 2017 "Rescued Quilts" Robin O'Neil
Guild member Robin O'Neil has a passion for finding quilts that are in need of a little TLC and turning them into great quilts that will be loved and used.. Robin will show us her large collection of gorgeous quilts that were once thought to have little value. She will share with us how she gave them new life. The evening is sure to be interesting and informative.
May, 2017 Annual Challenge Reveal hosted by Carrie Townsend
Guild member Carrie Townsend has challenged the members to design an original quilt showing their interpretation of "A Solid 10". Our guild is celebrating their tenth year in 2017, so Carrie thought it fitting that we celebrate a SOLID 10. You must use 10 solid fabrics- no more, no less. The rest is up to you! Let the sewing commence! Prizes will be awarded randomly as well as by vote of viewers. Everyone is encouraged to participate.
June, 2017 Caryl Bryer Fallert Gentry
Inspiration and the Creative Process
knowledge through her publications and her website.
July, 2017 Peggy Gelbrich- Trunk Show
August, 2017 Annual UFO Reveal hosted by Marlene Thomas
September, 2017 Swann Sheridan
Swan's interest in all things textile related began when she was very young. She tried everything from spinning wool, to cross-stitch and finally landed in the world of quilting during grad school as she awaited the birth of her first nephew. She dabbled in appliqué with that first quilt in the interests of covering a mistake and thus did necessity become the mother of invention.
Appliqué truly took over Swan's quilting life in 2004 while she was pregnant with her daughter. Swan had a dream during that time that repeated a magical image of dragonflies rising out of a brass urn and flying toward the moon. Unable to shake the idea that this image needed to become a quilt for her baby-to-be, Swan set out to make this quilt come alive and as a result produced her first large appliquéd scene.
In 2009, with her daughter in preschool, Swan began to refine her applique skills always with unique designs. Soon after she took a job with Bella Quiltworks in Tucson, Arizona, offering her the opportunity to be immersed in the quilting world in a whole new way.
Swan began producing patterns for sale in early 2013 and regularly exhibits her work in local shows. She teaches in Tucson, offering classes in appliqué, color, hand quilting, and decorative stitches. She also enjoys commission work on a limited basis.
On any given day, you can find this quilt artist half buried in fabric, brandishing her needle and thread, and otherwise surrounded by implements of creativity.
October, 2017- Cathy Ware- Wool Applique Artist
November, 2017 "Hand Applique and Hawaiian Quilting" Nancy Lee Chong
Well known Hawaiian Quilter and hand applique artist and teacher, Nancy Lee Chong, will speak and share an extensive trunk show of her exquisite work at our November guild meeting.
Nancy loves teaching applique! Her mission to make sure quilters and needleworkers of all kinds learn just how easy and fun applique really is when it is not complicated by all kinds of extraneous tools and steps. Nancy learned to make Hawaiian Quilts from Margaret Luika Kamaka in Kailua, Oahu, Hawaii, between 1978 and 1981. Calling on her degree in Education, she began teaching Hawaiian quiltmaking in 1982, when she moved to the Seattle, Washington area with her husband and daughter. In 1988, she made her first pieced quilt, and has been making both traditional and art quilts since. Hawaiian quilting and applique quilts continue to be her specialty. Her pieced and appliqued quilts have appeared in magazines, quilt books, and have traveled throughout the United States and to other countries.
You can see more about Nancy on her webpage, http://quiltchong.com/
Nancy will be teaching workshops on Saturday and Sunday, November 18 and 19th.
December, 2017 Holiday Party
2016
January, 2016 "Redwork" Jean Gordon
February, 2016 "Casting Shadows" Colleen Wise
March, 2016 Annual Brown Bag Extravaganza
chaired by Sandi Carner
April, 2016 "Quilts That Tell a Story" Anne Sonner
May, 2016 "Global Dances" Helene Knott
June, 2016 Annual Challenge- the Number 9
Hosted by Clara Mashek
July, 2016 "Paper Piecing" Cheryl Peck
August, 2016 Annual UFO Contest Reveal
Hosted by Marlene Thomas
September, 2016 "The Value of Color" Michele Crawford
October, 2016 "ZigZag Pizzazz" Kathie Kerler
November, 2016 "Vintage Quilts"
Hosted by Barbara Sanders
December, 2016 Annual Holiday Party